Whether you're in town for National Bourbon Heritage Month in September or just visiting Louisville to soak in the local sites, we at the Inn at Woodhaven, are happy to teach you all we know about bourbon whiskey so that you can leave feeling like a true Kentuckian.
When people think of Kentucky, three things usually come to mind: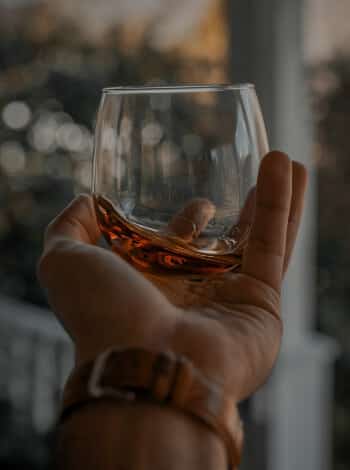 bluegrass, the Derby, and bourbon. But let's save the plant and pony talk for another day. Today we're going to focus on a beverage that's so big it draws over 50,000 people to the small town of Bardstown (less than an hour from our bed and breakfast) for the annual Kentucky Bourbon Festival every September. Kentucky bourbon is truly an all-American product, with an interesting history that is rich in both fact and folklore. So, consider this your Unofficial Crash Course in Bourbon from your local friends at the Inn at Woodhaven.
KNOW- It's time to separate fact from fiction with some important details you should know about bourbon:
A common apocryphal is that "bourbon" comes from Kentucky and the same beverage produced elsewhere must be called "whiskey". This is false. Although 95% of bourbon produced does in fact come from Kentucky, there are no laws that require bourbon distilleries to be located here. We strongly believe, however, that the BEST bourbon does indeed originate within the Bluegrass State.
It is a law that bourbon barrels can only be used once and the charred oak barrels must be discarded after use. But don't fret. These barrels are being put to good use in the craft beer industry, with Louisville breweries like Goodwood Brewing Company producing some noteworthy bourbon-barrel aged ales.
Remember when we taught you that bourbon can be made outside of Kentucky? We forgot to add that although it can be produced in any of the 50 states, bourbon MUST be made within the United States to be labeled as such. In fact, on May 4, 1964 Congress declared bourbon a "distinctive product of the United States." When you sip this spirit, you're enjoying something that is truly American-made (though foreign ownership of US distilleries is allowed).
There are more barrels of bourbon in Kentucky than there are humans living in the state. Back in 2014, a count found that barrels outnumbered citizens by about 1 million. That's a lot of charred oak!
SEE- If you've got the Kentucky Bourbon Trail on your travel agenda, know this first!
The increasing popularity of bourbon tourism combined with COVID-19 protocols has significantly limited tour availability. Unfortunately, this means the days when you could visit bourbon distilleries and tour without an appointment are all but gone. We recommend that you schedule your tour well-ahead of your anticipated arrival in Louisville, especially for those places you are particularly excited to visit. Too late for that? Then aim to arrive at the distillery as soon as they open for the day and see if you're lucky enough to snag a spot.  We also recommend trying some of the lesser-known but completely noteworthy new distillers like Peerless or Rabbit Hole.
TASTE- Enjoy a relaxing retreat at the Inn at Woodhaven, where we bring the bourbon tasting to you.
Life hack… if you enjoy drinking bourbon and meeting interesting people from around the world, then buy and run a bed and breakfast in Louisville, Kentucky. Okay, we know the glamorous life of a bed and breakfast operator isn't for everyone, but hosting bourbon tastings with our guests is one of our favorite activities to offer. We'll teach you the proper way to taste and enjoy bourbon neat. Want to know our personal favorite bourbons? Well, you'll just have to join us for a visit to learn that. Check our availability and book your visit here.
EXPLORE– Everyone has heard of the Bourbon Trail, but are you familiar with the Urban Bourbon Trail?
Legend has it that it's a good idea to eat between all of the bourbon sampling. Thankfully Louisville has an impressive collection of restaurants to meet your needs. We recommend downloading the free digital Urban Bourbon Trail passport to your mobile phone. This electronic passport features over 40 restaurants across Louisville with extensive bourbon selections, bourbon-infused dishes and discounts on appetizers, drinks, and more. As an added bonus, if you collect at least six digital stamps during your visit you can redeem them at the Louisville Visitor Center for a free Urban Bourbon Trailblazer t-shirt. Mama would be so proud.
ENJOY– We can't send you off without sharing our signature version of the Louisville classic bourbon cocktail, the Old Fashioned.
Back in 1853 when the house was built by Theodore Brown, the groves of walnut trees he planted on the sprawling land leading up to the house became known as Woodlawn. We pay homage to Theodore and his passion for walnut trees with our version of this simple cocktail.
The Woodhaven Old Fashioned
Ingredients:
2 oz Bourbon (we use Old Forester 86)
½ oz Demerara Syrup (see recipe below)
6-8 drops of black walnut bitters
Dark Italian sweet cherry for garnish
Instructions:
Mix bourbon, demerara syrup, and bitters in a mixing glass with a cocktail spoon. Pour over a large ice cube in a rocks glass. If using bourbon over 100 proof, add ½ tsp of cherry juice to make the taste a little smoother. Garnish with a cherry and enjoy responsibly!
Demerara Syrup:
Bring 2 cups of water to a boil in a saucepan over high heat. Briskly whisk in 3 cups of demerara sugar, followed by 1 cup of granulated white sugar. After stirring with the whisk t for a minute or two, the liquid should be somewhat clear and you should be able to see the bottom of the saucepan when the sugar dissolves. Remove from heat. After 10 minutes add two whole vanilla beans to your storage container and slowly pour the syrup into the container over the vanilla beans. Store in the refrigerator for at least 24 hours before using the syrup.
This syrup recipe makes 32 oz and should be stored in a sealed container in the refrigerator. It will last for several weeks.
Book Your Louisville Trip Today
Excited by bourbon culture? Click HERE to check availability at book your stay at our Kentucky bed and breakfast.