Hosting can be one of the most wonderful, memory-making parts of the holiday season. Even still, more than half of Americans report that hosting is also one of the most stressful parts of the holiday season. As innkeepers of the Inn at Woodhaven in Louisville, Kentucky, we get it. There is a lot to do! That's why we're delighted to share our tips to make holiday hosting easy. Plus, we've included one of our favorite breakfast recipes that looks like you labored away, but is a breeze to make!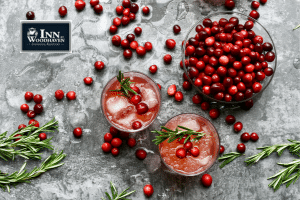 Focus on Easy Food for Holiday Hosting
Preparing food for a holiday gathering can easily get overwhelming between the shopping, the prep, the cooking, and the cleanup. Here are a few ways to lighten your culinary load so you can spend more time with your guests and less time with a mess.
Tip #1: Pick a theme and use it as a guide
Maybe picking a "theme" wasn't even on your to-do list. Hold that eye roll and hear us out. Picking a simple theme can be a very helpful way to organize your thoughts while creating a cohesive experience for your guests. It doesn't have to be elaborate like "Aura Borealis in Lapland" complete with a laser light show, bejeweled reindeer, and imported Finnish lonkero. A theme of "cranberries" can go a long way. From the color of your napkins to your signature cranberry sauce, to tossing a few fresh berries into a cocktail; there are many ways to take a simple idea and run with it. (And if you happen to also play the Cranberries' Christmas songs, we certainly can't fault you.)
Tip #2: Choose a few signature dishes and make them special
As innkeepers, we love to make as much as we can for our guests. But if you're not in the full-time business of hosting, chances are you can't (and shouldn't) make everything yourself. Start by planning your menu around the dishes you absolutely want to and love to make. Aim to choose recipes that you've made before or have time to test out in advance. If you have visitors from out of town, consider incorporating some local flavors or ingredients into your dishes. We've included one of our favorite breakfast recipes below, made with an apple cinnamon jam from a local Kentucky distillery, Evan Williams.
Tip #3: Buy the rest
Start perusing your local grocery stores early for easy potential side dishes, appetizers, and desserts that will compliment your main dishes. Once you have an idea of what's out there, it's easier to plan your meal or meals. If there is one thing a host never wants to do, it's run out of food. So when you're stocking up on the easy things to eat, buy more than you think you'll need, and rest assured that you're unlikely to run out. (Bonus if the items can be frozen and thawed for your New Year's soiree!)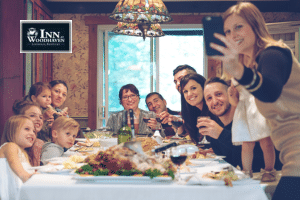 Becoming the Holiday Host with the Most (Easy Plan)
Tip #4: Hosting guests without a guest room
If your holiday hosting plans include the possibility of overnight guests but you don't have a spare guest room, then spend the time at least two weeks in advance to figure out your hospitality plan. There are two main things that guests crave: comfort and privacy.
First start by figuring out the room (or floor space) where your guests will sleep. Determine if you'll buy or rent a rollaway bed or air mattress. If you have the budget to do so, there are some outstanding inflatable beds on the market that will elevate your guests far off the floor so they don't feel like they're camping. Add a nightstand to the space, whether that be an actual nightstand, side table, small bookshelf, or crate. If they're in a main home area, like your living room, consider purchasing an inexpensive privacy screen, eye mask, and ear plugs so that they can catch their ZZ's even if others are awake. Lastly, bottles of water, snacks, extra phone chargers, and an easy-to-find wifi password can go a long way with guests.
Tip #5: Think Through the Day-Of Details
Trying to manage logistics on the day of hosting an event can feel overwhelming. Lighten your mental load by anticipating your guests' needs will allow them to help themselves and you to not run yourself ragged.
If it's cold out and you'll have multiple guests, consider buying (or renting) a coat rack rather than piling coats up in a bedroom.
Set up a large plastic bin with soapy water in the kitchen to quickly deposit dirty dishes.
Make sure you have multiple trash cans around that are easy to locate.
Overstock the bathrooms with toilet paper. Don't make it awkward for your guests to ask.
When The Party's Over
Tip #6: Gently Signal the End
Most people will sense the natural winding down of an event, but inevitably someone will want to party all night long. Since hosting requires a lot of energy, it's okay to signal to your guests when it's time for things to wrap up. Some hosts do this by lowering the volume of the music or switching to a more calming playlist. Others blow out candles or change the lighting.
Our preferred approach is to start cleaning up. It sends the signal while also creating less work for the following day. Guests may offer to help with cleanup and it is absolutely okay to accept that help. If you have takeout boxes on hand, your helpers can serve themselves leftovers. They'll appreciate the extras and you'll have your dishes soaking in no time!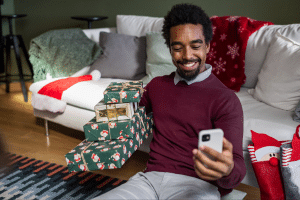 Tip #7: Sleep On It
You do not have to have your entire place cleaned by the end of the night. In fact, trying to do so when you're exhausted will make more work and take more time than is actually needed. Instead, spend the post-party time categorizing your cleanup. Gather up the garbage in one spot. Get all of the plates, silverware, and dishes soaking or loaded in the dishwasher. Pile up anything that needs to be laundered, like tablecloths, entry rugs, and kitchen or bathroom towels. Get some well-deserved sleep, pour yourself a nice strong mug of morning coffee, and tackle the after-party with renewed energy and a fun playlist.
How We Host at the Inn at Woodhaven
In all of our years of hosting we've learned that if we're relaxed and having fun, our guests are too. It's easy to get caught up in your to-do list. It's understandable to want everything to go perfectly. But at the end of the day, your guests will remember less about the occasional burned edge on your cookies and more about how you made them feel. Take deep breaths. Stay hydrated. And keep your focus on what matters most—your joy!
And now, one of our impressive looking but relatively easy-to-make recipes for you…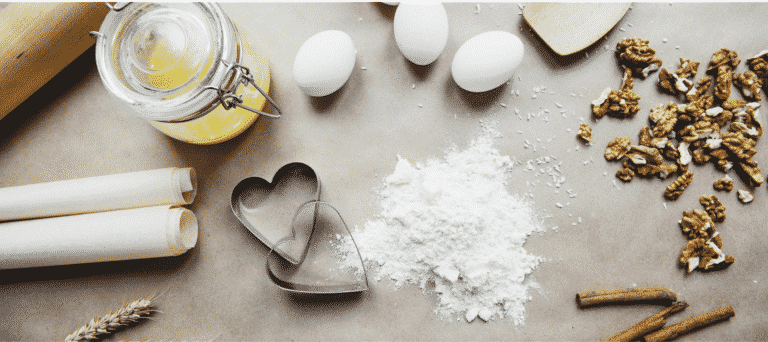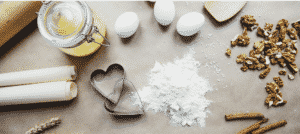 Cinnamon Cream & Spiced Pear Coffee Cake
Time: 30 min   Serves: 8-10
Ingredients:
1 package (3 oz) cream cheese
1/3 c salted butter
2 cups biscuit mix
1/3 cup milk
½ cup Evan Williams Cinnamon Pear Preserves
Glaze:
1 cup confectioners' sugar
1-2 TBS milk
½ tsp vanilla extract
Instructions:
In a bowl, cut cream cheese and butter into the biscuit mix until crumbly.
Stir in milk until moistened.
Flour a clean surface and kneed the dough 8-10 times or until smooth.
On waxed paper or parchment, roll the dough into a 12 inch x 8 inch rectangle.
Turn onto a greased 15 inch x 10 inch baking pan and remove the paper.
Spread preserves down the center third of the rectangle.
On each long side, but 1-inch wide strips about 2 ½ inches into the center.
Starting at one end, fold alternating strips at an angle across the preserves and seal the end.
Bake at 425F for 12-15 minutes.
Combine the glaze ingredients and drizzle over warm coffee cake.
Cool on a wire rack.