There is nothing quite like summertime in Louisville! Maybe it's the bourbon talking, but there is a certain buzz of excitement in the city as the town comes alive with fabulous foliage and fun festivals in June and July. And since horseracing at Churchill Downs continues through early July, you'll not too late to experience all of the best things that Louisville, Kentucky has to offer on your summer vacation! Here are just a few summer festivals for you to consider visiting this season.
Summer Nights and Wild Lights at the Louisville Zoo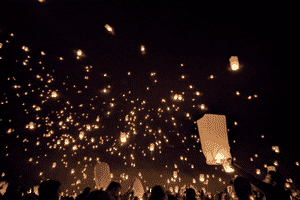 Louisville, Kentucky has a fantastic zoo! Opened in 1969, it features over 1,100 animals including North America's most endangered mammal, the black-footed ferret. There are over 130 acres of animal habitats to see, including their award-winning Glacier Run and Gorilla Forest exhibits. But things really get wild at night when the zoo launches their Wild Lights festival!
Wild Lights at the Louisville Zoo is one of the nation's largest lantern festivals. It features thousands of silk lanterns and uses over 50,000 LED lightbulbs to illuminate the night sky! As you stroll by the peacocks, serpents, and massive butterflies, be sure to grab a bite to eat or a drink along the way. The Wild Lights festival this year features a Chinese 5 Spice Kentucky mule and an Asian Pear Sangria for the 21 and older crowd, plus Chinese sugar donuts and other specialty cuisine just for the event. The event also includes Chinese cultural performances at 7:30, 8:45, and 10pm each night.
Wild Lights runs every Thursdays through Sundays, from March 18th until June 5th.  At $20 per ticket for General Admission, this is a unique and awe-inspiring event for adult couples or the whole family. Advance ticket purchases are required and is a "rain or shine" event. Learn more at LouisvilleZoo.org.
Kentucky Craft Beer Festival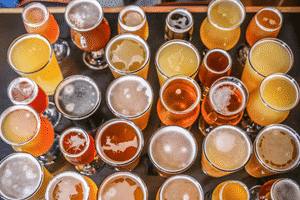 Craft beer lovers, unite! This festival is always a crowd-favorite, drawing 25-30 craft beer breweries from across Central Kentucky and the Ohio Valley Region (with a few more distant outliers joining in on the fun). If you're a casual craft beer lover, you'll find plenty of time to sample from all of the brewers during the General Admission time from 3-7pm. But if you're a practically a Cicerone (the beer equivalent of a wine sommelier), you'll want to make sure you have your VIP tickets for first dibs at sampling from 1-3pm.
The Kentucky Craft Beer Festival celebrates its 5th year in 2022 and takes place in Elizabethtown, about 50 minutes south of Louisville.  The event takes place on Saturday, June 18th and tickets are available for presale purchase at KentuckyCraftBeerFestival.com.
And as a bonus, while you enjoy the scenic drive, may we recommend making a stop to check out the Bernheim Arboretum & Research Forest for some wildly whimsical natural sculptures. But be sure to visit BEFORE the drinking begins!
Kentuckiana Pride Festival and Parade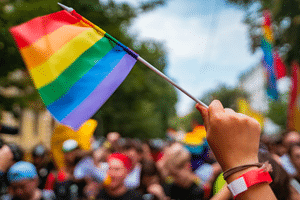 If music, entertainment, community, and a whole heap of rainbows are your idea of fun, then be sure to catch the Kentuckiana Pride Festival and Parade at the Big Four Lawn in Louisville. This is an all-day party celebrating the state's LGBTQ+ community and allies. Kentuckiana Pride starts at noon and stretches into the late hours of the evening with live music and performances on the Stonewall Stage. Be sure to catch the parade, which kicks off the event, as it winds through the hip NuLu district of Louisville. There are plenty of food trucks to enjoy throughout the day, along with many participating vendor booths to peruse.
Since 2000, the festival has been committed to promoting social, economic, and health equity for the area's LGBTQ+ community. VIP tickets (only available until May 10th) and General Admission are available for sale at KYPride.com.
Round Out Racing Season at Churchill Downs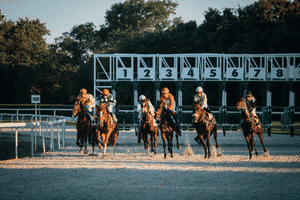 Okay… okay, we know this is supposed to be a list of festivals, but how could we not include an event related to one of our town's most iconic sites, the horse tracks at Churchill Downs. If you're lucky enough to be in the area for the first week of July, be sure to reserve your spot at the final Sunday Brunch of the thoroughbred racing season on Sunday, July 3rd.
Enjoy a day of horseraces that start at 12:45pm while you enjoy an oh-so-satisfying brunch in the Stakes Room at Churchill Downs. The menu includes traditional brunch fair like bacon, eggs, and hashbrowns, plus local specialties like Hot Brown. (Though we still think our Caramel French Toast Casserole at the Inn at Woodhaven is hands-down the best breakfast in Louisville).
Tickets are $48 for adults and $25 for children. You can find more information and book your tickets at ChurchillDowns.com/SundayBrunch.
Fourth of July Festival at Waterfront Park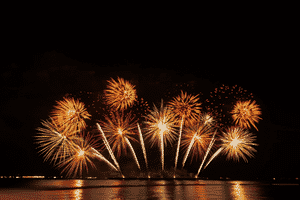 We'd argue that the heartland of America is one of the best places to celebrate our nation's Independence Day, and the Fourth of July at Waterfront Park is the place to be! Aside from the gorgeous spectacle of fireworks over the Ohio River, the Louisville Waterfront 4th of July is an all-day event with live music and upscale cuisine. The event includes a Family Activity Tent sponsored by the William M. Wood Foundation.
This year's free concert features Teddy Abrams and The Louisville Orchestra with special guest star Sam Bush. The gates open at 6:30pm with the concert beginning on the Waterfront Park Great Lawn at 8:30pm. Fireworks kick-off at 10pm.
Be sure to bring a blanket or lawn chairs with you (or ask us if we have extras available at that time). Pets, coolers, and glass vessels have to sit this event out. For more information, visit OurWaterfront.org.
Cruisin' the Heartland Car Show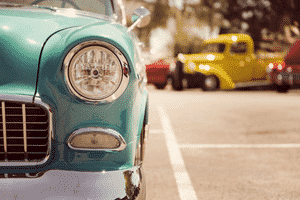 If you're a car enthusiast, then rev up your engine because this is your event! Cruisin' The Heartland celebrates its 12th annual car show and cruise-in this summer on Friday July 29th and Saturday, July 30th. Considered one of the top cruise-ins in the nation by Chevy Classic Magazine, this event draws in four-wheeled fans from far and wide. There are food vendors, concerts, a beer tent, and some autograph-worthy attendees. While you're in Elizabethtown, Kentucky, be sure to explore the Swope's "Cars of Yesteryear Museum" on your trip.
If you're entering your vehicle in the show, registration begins at 2pm on Friday and costs $20. Cash prizes are awarded to the top three winners, with awards given to the top 20 participants. You can find more information at ElizabethtownKY.org. And if you need a to-go meal packed for your drive south to Elizabethtown, just let us know at least 24 hours in advance and we'll pack you a picnic lunch that is perfect for the road!
More Reasons to Enjoy Louisville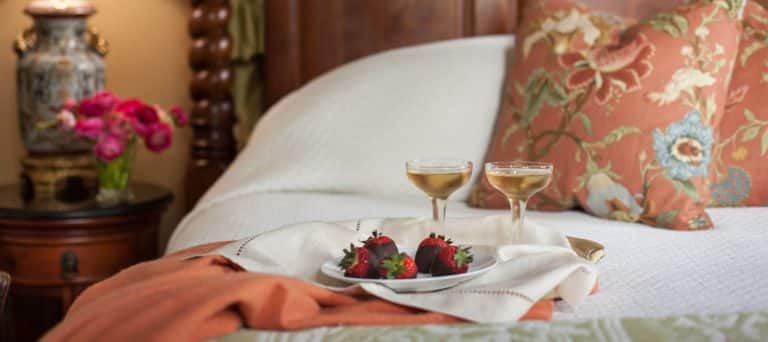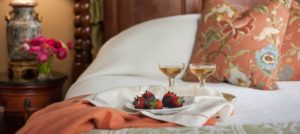 If our incredible bourbon trail, rich racing history, and gorgeous state parks weren't enough to draw you to the area this summer, we hope that one of the events above will bring you our way! We love hosting guests from across the United States and the world, sharing with them the charm and culture that Louisville, Kentucky has to offer.
Take a tour of our rooms and then book your stay with us soon for a summer vacation that is sure to be filled with great memories… and full bellies too!