It's no surprise that here in Kentucky both visitors and locals alike are quite fond of gifting bourbon and all-things-bourbon-related. While many people tend to gift the bigger names, like Jim Beam and Maker's Mark, we wanted to share our personal favorite ways to gift and enjoy Kentucky bourbon this holiday season. And if that includes a visit to our charming Inn at Woodhaven, so be it! (We're slightly biased there).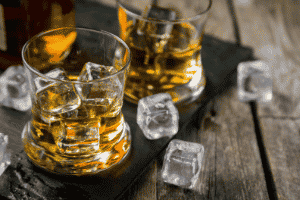 The Best Bourbon Distillery Tours
Living in Louisville, there is no shortage of bourbon distilleries offering fantastic tours of their facilities. While we rarely get days away from the Inn at Woodhaven, we have taken our fair share of local tours and have collected countless stories from guests about their favorite bourbon tour experiences as well.
Where should you start your Louisville distillery tours? Here are our top three in no particular order:
Kentucky Peerless– While they've been known by their current name in Louisville since 2015, Peerless is an award-winning distillery with a history dating back to the 1800s. (You can watch a fun YouTube video of their story here). Peerless appeals to bourbon lovers of all types with their Tasting Experience, Distillery Tour, and Heritage Tour (an intimate VIP tour for up to 8 people that includes a tour and tasting). No surprise—advance reservations are required for their facility, so plan ahead!
The Evan Williams Bourbon Experience– Visit the first distillery on Whiskey Row, with a history dating back to 1783. Aside from their building, which has some serious visual "wow" factor when it's lit up at night, this bourbon experience really is… well… an experience! Tours last approximately 45 minutes to 1 hour and include a historical tour, a viewing of the artisanal still, and a guided tasting from their portfolio of noteworthy American whiskey and bourbon. You can plan your trip here and tell them the Inn at Woodhaven sent you.
Old Forester– Some people are surprised when we suggest this. Old Forester, while a known and established brand, doesn't fall into the categories of Big-Name Bourbon Brands or Sexy New Distilleries. But Old Forester knows how to lead a tour that feels like more than just a PR pitch to sell products. Their guides are both thorough and knowledgeable, leaving many visitors completely satisfied with the experience. Enjoy their regular tour or splurge on their VIP tasting.

The Best Bourbon Tour Package
Maybe you're tight on time. Maybe you cringe at the thought of making individual reservations and trying to time everything appropriately to maximize your Louisville vacation. Or maybe you just want to drink a ton of bourbon while someone else safely delivers you from place to place and then back home to the Inn at Woodhaven.
If so, the Kentucky Bourbon Boys tours are for you!
This private tour company is our personal favorite for delivering a VIP bourbon experience in the most convenient and comfortable of ways. They offer tours in three different bourbon-laced areas of Kentucky and have established many high-quality restaurant partnerships to customize your experience. Each tour is 9 hours of pure history, hilarity, and a whole lotta eating and drinking that can be booked individually, as a couple, or with your favorite group of friends.
While it's a splurge, a gift certificate for a Kentucky Bourbon Boys tour is a present that will create memories lasting for years. But do be sure to take lots of photos– just in case your memory is not at its best by the end of the excursion.

The Best (and Most Relaxing) Bourbon Gift
In this bourbon-infused town, sometimes the nicest way to enjoy it all is in the relaxed comfort of your home away from home. One of our favorite parts of being innkeepers is when we get to host bourbon tastings with our guests and share our passion for Louisville hospitality. We have over 50 of our favorite bourbons available for sampling and love to share our knowledge of local bourbon culture and lore.
But what our guests really seem to enjoy most is when we prepare a bourbon flight board that they can enjoy by the warmth of the fireplace in their room or around one of the 13 Christmas trees on our property. Because let's be honest, bourbon is a drink to be savored and there is no better way to do that than when you've got nowhere to go and nothing to do!
Advanced reservations are highly recommended. You can find out more about our bourbon flights and other specials here.

A Gift That Is Just the Right Size
We like to think that the perfect bourbon vacation (or staycation) starts at the Inn at Woodhaven. If you're still in need of a holiday gift that nearly all adults would enjoy, consider purchasing a gift certificate for a stay in one of our many comfortable themed rooms. We hope you'll see why our guests return to us year after year!