Keeping stomachs full and happy is a key piece of hospitality. It's no surprise, as innkeepers of the Inn at Woodhaven, we get asked regularly what our favorite or more popular recipes are… especially when hosting a crowd. We've shared our drool-worthy Caramel French Toast recipe, our Kentucky-derby-ready Ultimate Mint Julep recipe, and our perfect picnic Summer-Loving Green Pita recipe. With today's winter weather and the Super Bowl just around the corner, we thought we'd share a crowd favorite that is guaranteed to warm souls and keep everyone fueled up—our Signature Spicy Crockpot Chili.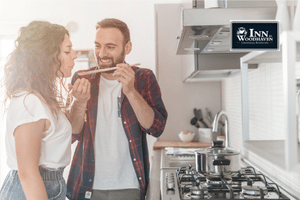 Why Chili Is the Perfect Super Bowl Meal?
Whether you're hosting a big Super Bowl watch party or just having a cozy game night for two, chili is an excellent go-to meal for a variety of reasons:
Chili has so many variations with ingredients and spice-level, that it is highly customizable to your personal tastes and scalable to any size crowd you're cooking for.
Chili is a food that can be prepared in advance and where the leftovers usually taste even better than the original serving.
Chili shines both as a main meal, hearty side, or hot dog topping. Plus, it's fun to dress up with cornbread, corn chips, sour cream, shredded cheese, pickled jalapenos, or whatever else speaks to your senses.
Chili is a food that evokes feelings of comfort and warmth. And it just tastes incredible!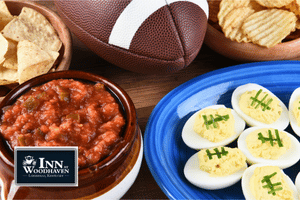 Pre-Game Chili Prep
While this recipe is easy enough to throw together on your own, we always find it more fun to prepare together. It usually starts with pouring a well-crafted drink, perhaps a Kentucky Peerless bourbon over ice or a bottle of wine from Old 502, Louisville's only urban winery. Then we turn on some of our favorite tunes or a Super Bowl playlist on Spotify and just enjoy our time together chopping up onions and peppers, browning the beef cubes, and blending up the perfect spicy sauce. Once that's done, everything goes in the crockpot and we relax knowing that our delicious dinner will be ready within hours.
Prepare your table based on your budget, aesthetic, and the number of people you're serving. Disposable paper bowls make sense for large football-loving crowds, but if this recipe becomes a cold-weather staple then consider investing in something special (we love these bowls from Etsy maker EarthenFirePottery out of North Carolina). Make sure you have plenty of beverage options on hand (plus sour cream or cheese) to handle the spice. This chili's got a real kick!
Enjoy the game knowing you've created a crowd-pleasing meal with minimal work and very easy cleanup!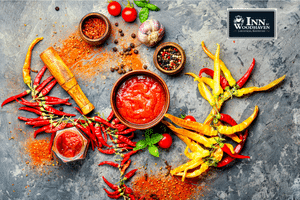 Spice Up Your Super Bowl with This Recipe
Without further ado, here is our favorite Signature Spicy Chili from the Inn at Woodhaven.
Inn at Woodhaven Signature Spicy Crockpot Chili
Ingredients:
3 tomatillos, husks removed
1 jalapeno pepper
2 serrano peppers
1 yellow onion
1 green, orange, or yellow bell pepper
1lb beef chuck, cubed
1lb ground beef
1 28oz can crushed tomatoes
1 28oz can diced tomatoes
1 tsp ground ancho chili pepper
3 Tbs chili powder
1 tsp chipotle powder
2 tsp cumin
1 tsp red chili flakes
1 tsp garlic powder
¼ cup olive oil
¼ cup beef stock
3 Tbs tomato paste
Carrot chips (optional)
Steps:
Toss the tomatillos, serrano peppers, and jalapeno pepper in a small pot with enough water to cover them. Bring to a boil and continue boiling until they are tender. Drain and serve boiled tomatillos and peppers for use later.
Chop the onion and bell pepper.
In a large skillet heat 2 Tbs olive oil over medium-high heat and brown the beef cubes on all sides. Place the beef cubes in your slow cooker.
In the same skillet, brown the ground beef with the onion and bell pepper. Once cooked, transfer the mixture to your slow cooker.
Using a food processor or blender, puree the tomatillos, serranos, jalapeno, ancho chili pepper, chipotle powder, red chili flakes, cumin, chili powder, garlic powder, and remaining olive oil until smooth. Stir sauce into the meat mixture in the crock pot.
Add the beef stock, tomato paste, crushed tomatoes, diced tomatoes, and carrot chips to the slow cooker. Stir well and cover, cooking on low heat for six to eight hours.
Enjoy with corn chips, cornbread, sour cream, cheese, or any other toppings you like!
We'd love to hear what you think and how you've made it your own. Prefer to tell us in person? We'd love to host you at our charming bed and breakfast this year!