After months of summer heat, we're ready for those crisp autumn temperatures and the beautiful fall foliage they create. At the Inn at Woodhaven, we love to watch the Louisville landscape transform from greenery everywhere to the rich fall colors of gold, crimson, orange, purple, and brown. If you're a "leaf peeper" it's time to book your stay with us now so that you've got a home away from home during the best time for fall colors in Kentucky.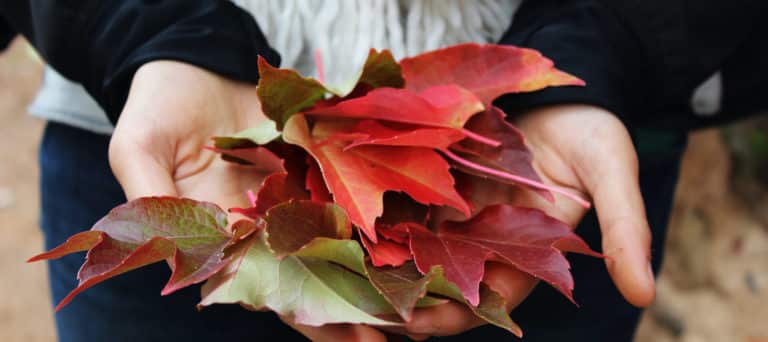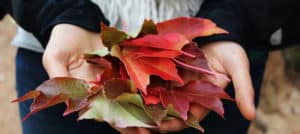 When is the Best Time of Year to See Fall Leaves in Louisville?
We've lived in Louisville for years and have come to realize that determining peak leaf season is about as easy and accurate as trying to throw a dart at a calendar while blindfolded and sipping bourbon. There are a few factors that contribute to a tree's decision to stop producing the chlorophyll that results in green leaves—mainly, fewer hours of sun and cooler temperatures.
Fortunately, we've been pretty lucky on Earth that the sun's appearance is consistent and predictable. Daylight is a little bit less as of summer solstice with early evenings starting around mid-October to early November. Coincidentally, mid-October to early November is traditionally when most experts predict that Louisville leafing will be at its best. The website SmokyMountain.com has tapped October 26- October 30 as the height of the fall season in Louisville according to their Fall Foliage Prediction Map from the past few years.
The wild horse in this race is the weather. With more and more unusual weather patterns, including record-high summer temperatures, we don't know what the impact might be on the fall leaves. The Farmer's Almanac has been forecasting long-range weather since 1818 and claims nearly 80% accuracy. For 2023, they predict that the best time for fall foliage will be October 5-21 for eastern Kentucky and October 12-28 for western Kentucky. With Louisville smack dab in the center of the state, it's anybody's guess when our peak leaf time will be (though we're betting on the later dates).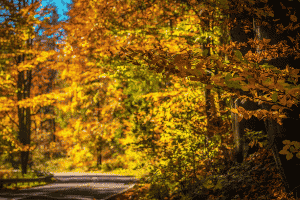 The Best Places to See Fall Leaves in Louisville
With its huge and award-winning parks system, Louisville has many options for walkers, hikers, and drivers who want to soak in the stunning fall colors. Here are just a few of our favorites:
Cherokee Park– From the landscape architect who designed Central Park in New York, Louisville cherishes this Frederick Law Olmsted creation. Great for any mode of transportation, this park includes a 2.4-mile loop that is ideal for casual bikers and drivers alike. Cherokee Park is 409 acres of natural wonders and includes bathrooms, picnic tables, and recreational areas.
Jefferson Memorial Forest– This park features over 50 miles of trails for all levels, from casual walkers to seasoned trail runners. Try the path along Mitchell Hill Lake to catch the beauty of the leaves and their reflection in the water. This forest is a tribute to local veterans and a favorite for serious nature lovers.
Shawnee Park– For those looking to stay on the well-traveled path, we have this second Olmsted-designed park for you to enjoy. Located along the Ohio River, this park was meant to be enjoyed by many and features an 18-hole golf course and basketball courts. It's also part of the Louisville Loop.
If you are up for a 3–4-hour road trip within the state, Big South Fork National Recreation Area and Buckhorn Lake State Park are two destinations that regularly make the national lists of best places for leaf viewing. Personally, though, we'd rather cozy up at our Inn and whip up a batch of our favorite bourbon cider to enjoy from our porch. (We've included our simple bourbon cider recipe below for you to enjoy as well!)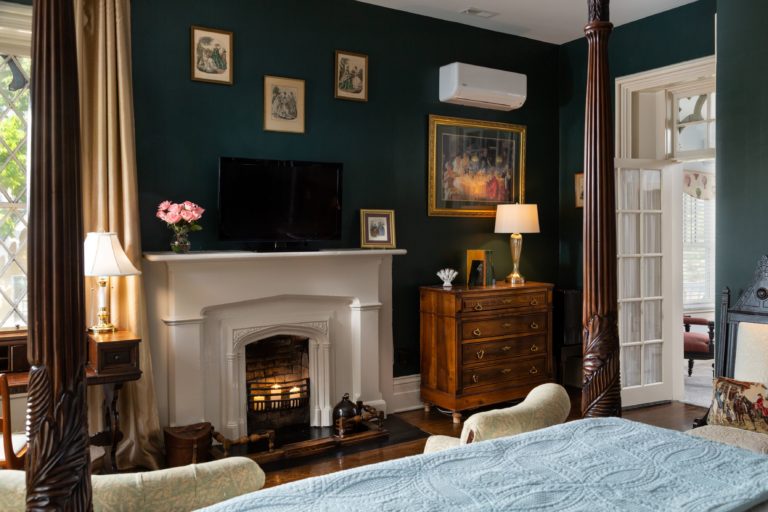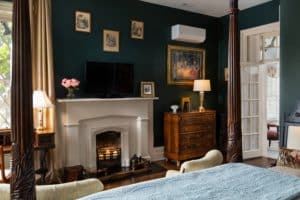 The Best Place to Stay During Peak Leaf Season
Perhaps there isn't an award for the Best Bed and Breakfast to Stay in While Leafing in Louisville, but if there was one we think we'd be the winner. We would love to host you at our cozy inn during your vacation to Louisville this fall. Take a look at our newly-renovated rooms, each with plush Stearns & Foster mattresses and fresh cookies in the lobby. But don't mull over this decision too long. When it comes to fall leaves in Louisville, the early booker gets the winning leaf shots!
And now it's time for a drink.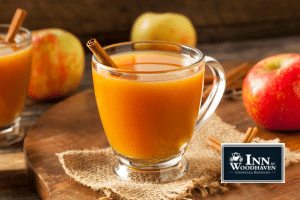 Feels Like Fall Simple Bourbon Cider Recipe
4 cups apple cider
2 cinnamon sticks (or 2 ½ tsp ground cinnamon)
Peel of 1 orange, torn into pieces
1 cup Kentucky bourbon
Add the cider, orange peel, and cinnamon into a pot over medium-high heat. Bring to a low boil, then reduce the heat to low and simmer for 45 minutes or you can't wait any longer.
Remove from heat and mix in the bourbon. Serve warm in your favorite mug.