Maybe you've had the Kentucky Derby on your bucket list. Or maybe you have just wanted to count yourself among the quarter of a million visitors who make Churchill Downs part of their Louisville vacation each year. Whatever your goal, we've got a list of our top tips for visiting Churchill Downs to make your trip as smooth and enjoyable as possible. And speaking of smooth and enjoyable… make yourself a sparkling blackberry mint julep cocktail to put yourself in the derby mood while you read this. We've included one of our favorite mint julep recipes for you below.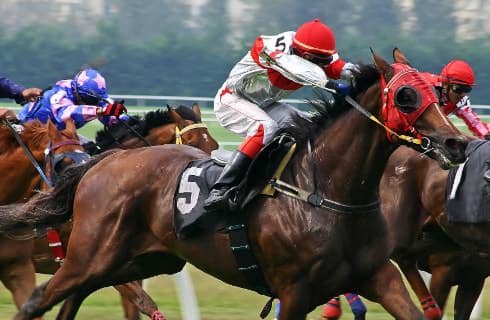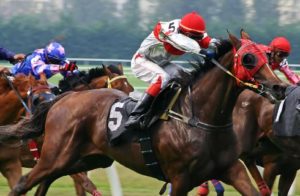 Derby Basics for Beginners
It's hard to meet a person nowadays who hasn't heard of the Kentucky Derby, the race marking the first leg of the American Triple Crown. But fewer people are familiar with the Kentucky Oaks and the even newer Thurby. The Oaks race takes place the day before the Kentucky Derby on the first Friday in May and features 3-year-old Thoroughbred fillies. The Thurby is a more recent event created by local Kentuckians to kick off the big weekend on Thursday. The Thurby features lots of great activities throughout the day and horse racing (of course), but has generally drawn more of a local crowd. Even still, Kentucky hospitality would never keep visitors from attending!
If you're concerned about where to sit to best see any of the races (during the Kentucky Derby or any of many other races that occur from April through early July), we've got some good news for you. Thanks to The Big Board, the world's largest 4k resolution video screen, there is not a bad seat in the house. Churchill Downs also features an impressive speaker system. It's so good, however, that we'd advise you to try and not sit near them if possible. Lastly, it's important to note that most viewing spots at Churchill Downs are outdoors and events are held rain or shine—so pack a poncho if you want to be race-ready!
Getting Yourself to The Most Exciting Two Minutes in Sports
Because the Kentucky Derby draws such a tremendous crowd from around the US and the world, Churchill Downs has really done well to manage the flow of traffic and parking. Even still, it's a constant work in progress to upgrade and expand. We're currently in another construction phase as they prepare for the massive crowds expected ahead of the 150th Kentucky Derby in 2024, so be sure to download their app for the latest in parking and transportation information.
General parking is free (except during the Derby and Oaks) and includes a tour of Churchill Downs that leaves every half hour. Parking is on a first-come, first-served basis in the track's largest parking lot near Gate 10. There is also valet parking on Longfield Avenue near Gate 10 which costs $10 and can be purchased online in advance. We consider it money well spent!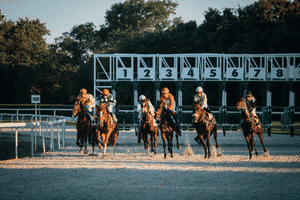 What to Bring and What to Leave
Many guests are surprised by the extensive list of prohibited items at Churchill Downs… and also by what IS allowed. It's important to note that this list becomes even more stringent for Thurby, Oaks, and Derby days—like the fact that you can only bring bottled water in sealed, clear, unopened plastic bottles and are limited to two 24oz bottles per visitor. While coolers and lunchboxes are not allowed, you can bring food in clear plastic bags or containers, so long as they do not exceed the maximum size of 12" x 6" x 12". We do recommend that you bring some food with you, as the concession lines can get quite long. But if you're willing to wait, make sure you grab yourself a slice or two of Derby-pie—Kentucky's most treasured dessert!
What are some other surprising things that you'll have to leave at home (or with us at the Inn at Woodhaven)? Don't bring cameras with detachable lenses or equipped with a lens 6″ or larger, selfie sticks, folding chairs, tents, confetti, noise makers, banners, hard bottles, alcoholic beverages, commercially prepared food, or umbrellas. Travel light and dress comfortably!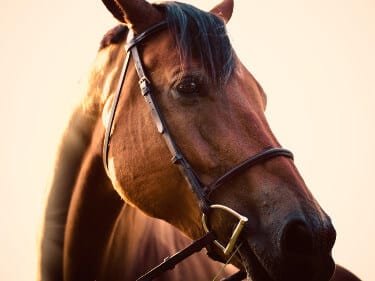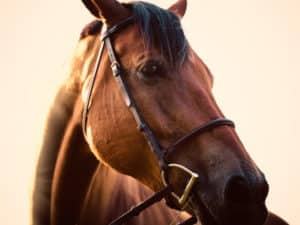 Leaving With Memories
We highly recommend that if you're making a trip to Churchill Downs, you soak in as much of the experience as possible. Take advantage of the Churchill Downs museum and walking tour that are included with the price of admission. You'll be amazed at the level of detail that is in each museum display and the amount of effort that goes into bringing a horse to the championship race. There's also the Kentucky Derby Walk of Champions, a small cemetery of sorts featuring the remains of several of history's celebrated horses. This small area serves as the final resting place for a handful of Derby-winning horses and honors their memory.
If you're hoping to head home with a souvenir or two, you may want to hit the gift shop first as it's not uncommon for them to run out of items—particularly on major race days. But really, there's no reason to sweat it. You can visit their online store at www.KentuckyDerbyStore.com to order whatever items caught your eye, and have them shipped back to your home so that you don't have to fit them into your suitcase (and take up extra space that you could be dedicating to delicious Kentucky bourbon).
But Most Importantly…
Book your reservations early. While the Inn at Woodhaven is already booked for Kentucky Derby weekend YEARS ahead, we would love to host you for any of the other horseraces that occur during racing season at Churchill Downs. Contact us today to schedule your stay. And if you really want to get in the mood, ask if our Derby room is available. It's truly a once-in-a-lifetime experience that you should not miss!

Our Favorite Blackberry Mint Julep from Creative Culinary
Ingredients
Small ice cubes
½ cup blackberries
4 tablespoons mint leaves torn in half
2 Tbsp simple syrup (equal parts water and sugar brought to boil just enough to melt sugar; cooled)
3 ounces bourbon
Prosecco or other sparkling wine
Mint sprigs and blackberries for garnish
Instructions
Fill a julep or small rocks glass overflowing with ice cubes.
In a shaker, muddle the blackberries, mint leaves, and simple syrup.
Add 1 cup of ice cubes and bourbon to the shaker and shake well. Strain the drink into the glass filling it 3/4 full.
Finish filling the glass with the Prosecco, and gently stir to combine.
Gently press on the mint leaves for garnish to release their aroma before putting a bunch into each cocktail; finish with a blackberry and serve with a short straw.